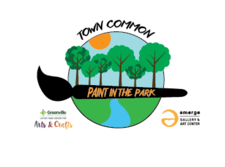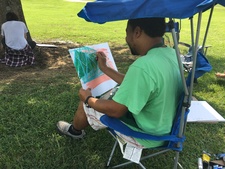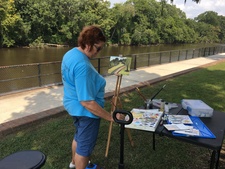 Join us on Sunday, May 5 from 1:00pm - 3:00pm in a relaxed, creative, and natural setting at the Town Common. Artists will enjoy the natural ambiance of Town Common (105 E. 1st Street, Greenville, NC) and the Tar River. Whether you are a novice or experienced painter, a great time is sure to be had, while meeting other creatives in Pitt County. Artists are able to come up to the stage at 3:00pm to show off their creations and a photo opp.

The City of Greenville Recreation & Parks Department and the Pitt County Arts Council at Emerge invite artists to come to the Greenville Town Common to participate in Paint in the Park, a FREE plein air paint event. This is a bi-annual event, taking place in the fall and spring. The inaugural event took place on September 8, 2019.

What is en plein air?

En plein air
(French pronunciation: ​[ɑ̃ plɛn ɛːʁ])
(plān′âr′, plĕ-nĕr′)
1: of or relating to painting in outdoor daylight
2: of or relating to a branch of Impressionism that attempts to represent outdoor light and air
3: open-air : outdoor
Artists must bring their own supplies (paint, canvas/paper, easel, and chair if needed).
WHEN: Sunday, May 5, 2024
TIME: 1:00pm - 3:00pm
LOCATION: Town Common: 105 E. 1st Street, Greenville, NC