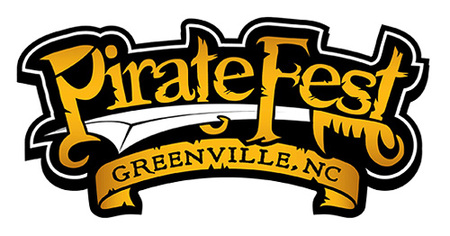 Swashbucklers of all ages will converge on the banks of the Tar River, a paradise located in Uptown Greenville, for the 11th annual PirateFest on April 7th and 8th, 2017.  
PirateFest begins Friday, April 7th with a live music concert, Buccaneer Bash from 5 to 9 p.m.  On Saturday, April 8th, PirateFest begins at 10 a.m.  The celebration takes place along Evans Street from 5th to 1st Street onto the Town Common and in Five Points Plaza.
PirateFest, typically drawing 30,000+ attendees, features fine arts and crafts for sale, three live music stages, a "grog garden," pirate entertainers, a Parade of Pirates, a Children's Pirate Costume Contest, and a Pirate Encampment offering crafts, an inflatable pirate ship for children, and other activities.  Also, don't miss the Fossil Dig, free kayak rides, as well as a variety of food and entertainment from around the world.  Returning this year, pirates of all ages can enjoy carnival rides.  Additionally, festival attendees are invited to dress-up and walk in the Parade of Pirates.
If you are interested in volunteering or learning more, please visit www.piratefestnc.com!